Rokinon 1309EQ2 Diamond Black Reflector Telescope
The Rokinon 1309EQ2 Diamond Black Reflector Telescope boasts a 130mm fully-coated precision ground objective lens housed in a black, glossy aluminum tube.
This scope offers silky smooth rack and pinion focusing combined with a German-type equatorial mount which enables the user to seek out deep-sky objects by their celestial co-ordinates and track their movements effortlessly across the sky.
The Rokinon 900 x 130mm Reflector Telescope
has a focal length of 900mm and a magnification range of up to 140x, this telescope is the ideal scope for the intermediate star gazer.
The Newtonian Reflector design is favored by many astronomers because of it's sophisticated setup and controls, when compared to different types. Also included is a Starry Night CD-ROM for the star-gazing devotee.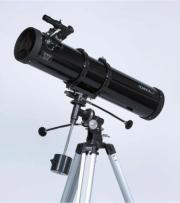 Specification
Optical Design: Newtonian Reflector
Lens Diameter: 130mm
Focal Length: 900mm
Secondary Mirror: Diameter 34.5mm
F/ratio: F/7
Highest Power: 260x
Resolving Power: 0.9
Finderscope: Red Dot Finder
Focus Diameter: 1.25 inches
Eyepieces: 1.25 Inch Super 20 and 10
Mount Type: Equatorial
Accessory Tray: Wall-to-wall
Includes: Starry Night CD-ROM Software, aluminum tripod, 1.25 Inch Super 25 and Super 10 Eyepieces, 1.25 Inch Single BArlow Lens, 6x24 Finderscope, and 2 Tube rings
Diamond Black Body finish on telescope tube
---
Return From Rokinon 1309EQ2 Diamond Black Reflector Telescope To Rokinon Telescopes Main Page