Rokinon 62550 Refractor Telescope
The Rokinon 62550 Refractor Telescope has been developed for star gazing and terrestrial use. This Rokinon telescope boasts a high quality 50mm lens in a glossy aluminum tube.
Having a focal length of 625mm and a magnification range of 50x-468x, it is an excellent option for the novice or amateur astronomer. This refractor telescope is simple to maintain with its enclosed lens and is just the tool for terrestrial observing as well. Included is a Starry Night CD-ROM for the star gazing aficionado.
This scope is an ideal entry level model for the beginner or anyone contemplating buying a telescope for stargazing, and offers an extremely affordable way to enter the world of astronomy.
For more than a quarter of a century ROKINON lenses and optics have been a symbol of unmatched excellence and dependability. The ROKINON brand will continue to deliver on its outstanding reputation by supplying superbly engineered and progressive merchandise at an affordable price. You can be in no doubt that ROKINON products will provide you with extraordinary functionality and unparalleled robustness.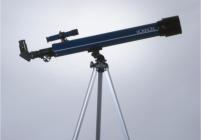 Specification
Focal Length: 625mm
Magnification: 50x to 468x
Eyepieces and Accesories: SR4, H12.5, 3X Barlow, Diagonal Mirror 0.965 Inch Lens, 1.5x Erecting Lens, 5x20 Finderscope
Aluminum Tripod with accessory tray
Starry Night CD-ROM Software
---
Return From Rokinon 62550 Refractor Telescope To Rokinon Telescopes Main Page