Sirius Observatories
Sirius Observatories are manufacturers of quality Astronomical Observatories which have been sold throughout the world since 1986.
All Sirius Observatories are made from extremely high quality materials, yielding a deterioration rate of only 0.1% per annum after 20 years under normal conditions, if properly maintained. They can be provided in any colour, although most people choose white to keep things cool in the summer months.
For those that prefer a simple approach to life, the 2.3m and 3.5m can come in either a manual or a motorised version.(The 5m and 6.7m are too large to operate manually.)
All sizes can have a Maxdome motor installed to co-ordinate the shutters; the dome rotation and the telescope direction.
Sirus Home Observatory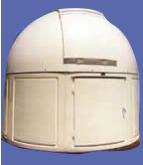 The Home size observatory is ideal for any individual observer or for a small club. It adequately holds two to three people with a side or centrally mounted telescope. The addition of one or more wall storage locker panels will add to the available space.
Total Height 2.83 meters 9'4"
Wall Height 1.5 meters 5'0"
Diameter 2.3 meters 7'6"
Door Size 1150h x 800w 3'6"x 2'6"
Aperture Width 0.6 meters 2'0"
Open past zenith 250mm 0'10"
Wind speed 144/225 kph
Shutter protusion 920mm
School Observatory
The School size unit will suit the larger telescope. It is designed for a tutor and up to eight people. The clear span and clean lines allows all observers to move about easily within the observatory.
Total Height 3.25 metres 10'6"
Wall Height 1.5 metres 5'0"
Diameter 3.5 metres 11'6"
Door Size 1150h x 1000w 3'6"x3'3"
Aperture Width 1 metre 3'3"
Open past zenith 400mm 1'3"
Wind speed 144/225 kph
University Observatory
The University size unit is ideal for larger groups and the bigger telescope. Seated groups of up to twenty people will find such an observatory very spacious and extremely easy to operate.
Total Height 5.5 metres 18'0"
Wall Height 2 metres 6'6"
Diameter 6.7 metres 22'0"
Door Size 1580h x 980w 5'2"x3'2"
Aperture Width 1.8 metres 6'0"
Open past zenith 800mm 2'6"
College Model Observatory
In addition to the 2.3 metre Home Model, 3.5m School Model and 6.7m University Models, demand from customers has meant they have increased the size of the Sirius family to include the 5 metre College Model.
This latest design gives plenty of room, yet is still small enough that it can be put together without a specialist supervisor. An easy to follow instruction manual is sent with every observatory sold.
Wall height 1.8m 5'11"
Total Height 4.45m 14'7"
Dome Only Height 2.65m 8'8"
Dome only Outer Diameter 5.0m
Dome Only Inner diameter 4.8m
Lower Shutter protusion 1.9m
Aperture 1.5m
Open past zenith 750mm
No storage lockers
---
Return From Sirius Observatories To Amateur Observatories Main Page
Telescopes Home Page