Skywatcher 150PDS Telescope
The Skywatcher 150PDS Newtonian Reflector incorporates the same superb mirror-set as the Explorer-150P Black Diamond Series, but with two significant advantages.
A Dual-Speed 10:1 ratio focuser is now included for excellent focusing precision. Also the tube length has been slightly shortened to optimise performance for prime-focus photography.
The superb EQ3-2 mount receives high marks from experienced observers. This sturdy mount offers precision and stability along with a host of other features for the serious astronomer.
The mount rests firmly on a large, adjustable aluminium tripod with accessory tray. A bubble level allows for quick and accurate levelling. Slow-motion control knobs allow for continuous manual tracking of celestial objects.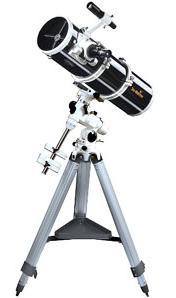 Specification
Magnification (with eyepiece supplied) x30
Highest Practical Power (Potential) x300
Diameter of Primary Mirror 150mm
Telescope Focal Length 750mm (f/5)
Eyepiece Supplied 25mm (1.25"/31.7mm)
6x30 Finderscope
Parabolic Primary Mirror
2" (50.8mm) Dual-Speed 10:1 Crayford Focuser
0.5mm Ultra-Thin Secondary Mirror Supports
EQ3-2 Equatorial Mount with Aluminium Tripod
33% more Light-Gathering than 130mm
---
Return From Skywatcher 150Pds Telescope To Skywatcher Telescopes
Telescopes Home Page