Skywatcher 250PDS Telescope
The Skywatcher 250PDS Explorer Newtonian Reflector Telescope incorporates the same superb mirror-set as the Explorer-250P Black Diamond Series, but with two significant advantages.
A Dual-Speed 10:1 ratio focuser is now included for excellent focusing precision.
Additionally the tube length has been slightly shortened to optimise performance for prime-focus photography.
Even better performance for astro-photography and visual use can be achieved when used in combination with Sky-Watcher's Newtonian coma corrector.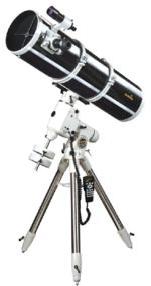 This telescope will give stunning views of all subjects, and the mount is capable of accurate tracking for astrophotography.
This scope can be used on any mount from an EQ6(NEQ6)onwards.
Standard Specification:
Magnifications (with eyepieces supplied) x43
Highest Practical Power (Potential) x500
Diameter of Primary Mirror 254mm
Telescope Focal Length 1200mm (f/4.7)
Eyepieces Supplied 28mm LET (2"/50.8mm)
9x50 Finderscope
Parabolic Primary Mirror
2" (50.8mm) Dual-Speed 10:1 Crayford Focuser
0.5mm Ultra-Thin Secondary Mirror Supports
56% more Light-Gathering than 200mm
---
Return From Skywatcher 250PDS Telescope To Skywatcher Telescopes
Telescopes Home Page