Skywatcher 300pds Explorer Telescope
The Skywatcher 300PDS Newtonian Reflector incorporates the same superb mirror-set as the Explorer-300P but with two significant advantages.
A Dual-Speed 10:1 ratio focuser is now included for excellent focusing precision. Also the tube length has been slightly shortened to optimise performance for prime-focus photography.
This very large aperture high quality parabolic reflector Telescope will provide stunning views of Solar system objects along with Galaxies, Nebulae and clusters.
Telescopes in this aperture are regarded as serious instruments and significantly outperform smaller models and are for most the ultimate instrument to own.
Specification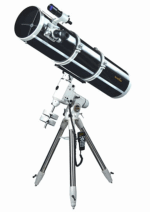 Magnifications (with Eyepieces supplied): x60 & x150
Highest Practical Power (Potential): x600
Diameter of Primary Mirror: 300mm
Telescope Focal Length: 1500mm (f/5)
Eyepieces Supplied 28mm LET (2"/50.8mm)
2" (50.8mm) Dual-Speed 10:1 Crayford Focuser
Parabolic Primary Mirror
0.5mm Ultra-Thin Secondary Mirror Supports
9x50 Finderscope
Direct SLR Camera Connection
NEQ6 PRO SynScanTMDeluxe Super Heavy-Duty Computerised GO-TO Equatorial Mount (requires 12 volt DC Power Supply)
Built-in Dual-Axis Stepper Motors
Built-in Polar Alignment Scope Holder
2" Stainless Steel Pipe Tripod with Accessory Tray
44% more Light Gathering than 250mm
---
Return From Skywatcher 300pds To Skywatcher Telescopes
Telescopes Home Page