Skywatcher ED80 Evostar
The Skywatcher ED80 EVOSTAR DS-PRO Series Apochromatic refractors in their stunning Black-Diamond livery, house premium optics of the same quality and performance level as Skywatchers legendary Equinox series, making them superb instruments for both imaging and visual observations.
Apochromatic Refractors, due to their unobstructed, text-book like diffraction patterns, produce the sharpest, highest quality optical imaging available, bar-none, aperture for aperture, of any telescope optical system.
These high-end telescopes all feature a doublet objective lens.
One element is made from premium Japanese Ohara FPL-53 Extra-Low Dispersion (ED) glass, which virtually eliminates chromatic aberration to deliver true colour reproduction. Top quality Schott glass is utilized for the Crown element.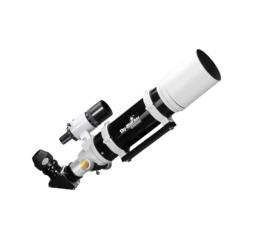 Each air-to-glass lens surface has exotic anti-reflection metallic coatings applied, to ensure optimum light through-put of approaching 99.5%.
The proprietary Sky-Watcher "Metallic High-Transmission Coatings" (MHC) are the finest photon anti-rejection coatings in their class.
Specification
Magnification with Eyepieces Supplied: x21
Highest Practical Power (Potential): x240
Objective Lens Diameter: 80mm
Telescope Focal Length: 600mm (f/7.5)
Eyepiece Supplied (2"): 28mm LET
2"/50.8mm Di-Electric Star Diagonal
9x50 Finderscope
Dual-Speed 11:1 2" Crayford Focuser (Backlash-Free)
Multi-Coated Objective Lens
Supplied with Tube Rings & Mounting Plate
Aluminium Carrying Case
---
Return From Skywatcher ED80 Evostar To Skywatcher Telescopes Main Page
Telescopes Home Page