SkyWatcher EQ3 equatorial mount
The heavy-duty SkyWatcher EQ3 mount features 360 degree worm-gear tracking controls on both axes, large knob-style R.A. and Dec. lock bolts, dual metal setting circle dials, a latitude adjustment screw, and a built-in polar scope holder.
It can be fitted with both single and double axis motor drive for auto-tracking.
The EQ3 mount with Steel tripod legs is also available.
To eliminate stresses on the EQ mounts and to ensure smooth judder free motion of the telescope the instrument needs to be balanced about both the declination and polar axis, this is easy do do and is included in the instruction manual.
This model is recommend for deep sky observing.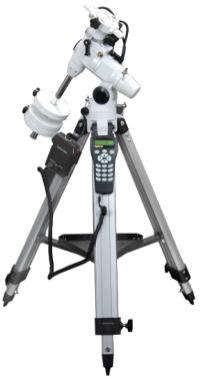 Deluxe Equatorial Mount
The superb high-end EQ3-2 mount receives high marks from experienced observers. This sturdy mount offers precision and stability along with a host of other features for the serious astronomer. The mount rests firmly on a large, adjustable aluminium tripod with accessory tray.
A bubble level allows for quick and accurate leveling. Slow motion control knobs allow for continuous manual tracking of celestial objects.
The precision mount features full 360 degree worm-gear tracking controls on both R.A. and DEC. axes. Dual metal setting circle dials allow quick location of target using celestial co-ordinates.
An optional polarscope is available for aiding in polar alignment. Optional single axis and dual axis D.C. motor drives can be installed for auto tracking purposes.
Specifications
Mount Type German equatorial
Slow-motion Control Yes
Counterweight(s) 1.8kg or 3.42 & 1.8kg or 5.1kg
Piggyback Bracket
Accessory Tray Large wall-to-wall
Motor Drive Single axis with hand controller
Tube Dimension(dia. x length)
Tripod Height 71-123cm
Tripod Weight 3.76kg
---
Return From SkyWatcher EQ3 Equatorial Mount To Equatorial Mount
Telescopes Home Page