Skywatcher EQ5 Equatorial Mount
The Skywatcher EQ5 telescope mount provides the precision and stability that is required for serious observing.
With single or double axis motor drive attached, it becomes the perfect instrument for deep-sky photography.
Standard features of the EQ5 include a built-in holder for polar scope, a latitude adjuster with micrometer scale, an azimuth polar-alignment adjuster, aluminum setting circles, large manual slow-motion tracking controls, and a bubble level.
Supplied complete with a bubble level, latitude adjuster with micrometer scale and an azimuth polar-alignment adjuster.
It also features engraved aluminium setting circles and manual slow motion tracking controls.
The EQ5 mount has controls for both conventional (up and down) and azimuth (left to right) directions of motion.
These two adjustments are suggested for large direction changes. The two azimuth adjustment knobs located near the tripod head allow for fine adjustment of azimuth for polar alignment.
Use the altitude adjustment T-bolts for altitude adjustments. These allow for setting the mount to your local latitude.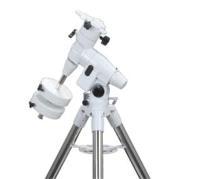 Recommend For: Deep Sky Observing
Specifications
Mount Type German equatorial
Slow-motion Control Yes
Counterweight(s)1.8kg or 3.42 & 1.8kg or 5.1kg
Accessory Tray Large wall-to-wall
Motor Drive Single axis with hand controller
Tube Dimension(dia. x length)
Tripod Height 71-123cm
Tripod Weight 5.07kg
The tripod on which the EQ5 sits is easily attached by aligning the metal dowel on the tripod head with the gap between the azimuth adjustments knobs underneath the mount. Simply tighten the knurled knob ubderneath the tripod head to make it secure.
There is also a convenient accessory tray to house all those extras.
---
Return From Skywatcher EQ5 Equatorial Mount To Equatorial Mount Main Page
Telescopes Home Page