SkyWatcher EQ6 (NEQ6) Equatorial Mount
The SkyWatcher EQ6 (NEQ6) is a superior heavy duty equatorial mount and the advanced precision computerized SynScan GOTO system, the EQ6 PRO SynScan is the affordable solution for imaging and visual applications.
The EQ6 PRO SynScan is designed with the novice user in mind. With the user friendly push button hand control, locating and observing the wonders of the night sky has become as easy as a walk in the park.
The hand control allows you to point the telescope at a specific object or even tour the skies at the touch of a button. The user-friendly menu system allows automatic slewing to over 13,400 objects.
Even an inexperienced astronomer can master its variety of features in a few observing sessions. The EQ6 SynScanTM also comes with features that advanced astronomers can appreciate:
Now supplied as NEQ6 specification with both the large D 75mm type saddle and standard 45mm saddle as well as a counterweight extension shaft.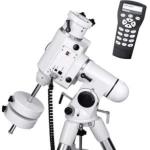 Specification
Positioning Accuracy up to 1 arc minute.
Accuracy enhanced by software collimation error (mount mechanical error) compensation.
Stepper motors with 1.8° step angle and 64 micro steps driven.
Slewing speed up to 3.4°/sec (800X).
Auto Guider Interface for astro-photography.
Guiding speed selectable from 0.25X, 0.50X, 0.75X, or 1X.
Object database containing complete M, NGC, and IC catalogues.
Minimal vibration for steady long-exposure photography.
Click Here for firmware updates
---
Return From SkyWatcher EQ6 (NEQ6) Equatorial Mount To Equatorial Mount
Telescopes Home Page