Skywatcher Equinox 120 OTA
The Skywatcher Equinox 120 OTA is the star of the Equinox Series. Its generous aperture makes it an ideal observing instrument for solar system and deep space objects alike, and it really shines on double stars.
For astrophotography, the Equinox 120 features an f/7.5 focal ratio – more than speedy enough for today's sensitive CCDs and digital SLR cameras. Plus, it can be coupled with a common SCT focal reducer to achieve even faster speeds.
Its high-power views are stunning.
For experienced observers and novices alike, the Equinox 120 delivers remarkable and memorable views.
It has the perfect configuration of aperture, focal length and focal ratio to make it a general-purpose telescope that can be used for everything from widefield viewing to high-power planetary imaging.
It may be the only telescope you will ever need, and one of the finest you will ever look through in this aperture class.
Metallic High-Transmission Lens Coatings
Each air-to-glass lens surface has exotic anti-reflection metallic coatings applied to ensure optimum light through-put of approaching 99.5%. The proprietary Sky-Watcher "Metallic High-Transmission Coatings" (MHC) are the finest photon anti-rejection coatings in their class.
Standard Features:
D = 120 mm, F = 900, f/7.5.
Razor sharp, colour-free, high contrast optics.
Retractable aluminum dewshield.
Tube rings and dovetail included
Built-in finder scope bracket
Outstanding high-power instrument for lunar and planetary viewing and imaging.
Outstanding low- and medium-power instrument for widefield imaging and viewing.
Aluminum carrying case for safe, easy transportation.
High-Precision Indexed Focuser:
Dual-Speed machined Crayford focuser.
360-degree adjustable for easy framing of objects for photography.
Graduated scale on drawtube for fast and precise focusing with CCD or DSLR cameras.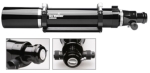 Whatever your application, we're sure that Sky-Watcher Equinox refractors will meet and exceed your most demanding performance requirements with their superior mechanics, high portability and razor-sharp colour-free optics.
The Equinox 120 is Skywatchers flagship ED refractor, and delivers views that has few equals at this price point.
Specifications for the Skywatcher Equinox 120 OTA
Optical Design ED Refractor
Lens Material
Diameter 120mm
Focal Length 900mm
Scondary Mirror Diameter n/a
F/ratio F/7.5
Highest Practical Power 240x
---
Return From Skywatcher Equinox 120 OTA To Skywatcher Telescopes Main page
Telescopes Home Page