Skywatcher Equinox 66 OTA Telescope
The Skywatcher Equinox 66 OTA Telescope is the perfect choice for birding, nature study, and/or astrophotography.
Its fast optics and extremely generous field of view make it an ideal instrument for studying larger clusters and star fields too.
Standard Features
D=66 mm, fast, flat f/6, F=400Razor sharp, colour-free, high contrast opticsRetractable aluminum dew shieldRemovable L-shape bracket for easy mounting on any any camera tripodPerfect for astronomy, birding and terrestrial useFast speeds and flat fields for widefield astrophotographyAluminum carrying case for safe, easy transportation
High-Precision Indexed Focuser: Standard Feature
Dual-Speed machined Crayford focuser.
360-degree adjustable for easy framing of objects for photography.
Graduated scale on drawtube for fast and precise focusing with CCD or DSLR cameras
Whatever your application, we're sure that Sky-Watcher Equinox refractors will meet and exceed your most demanding performance requirements with their superior mechanics, high portability and razor-sharp colour-free optics.
This excellent refractor is regarded as a good quality entry level telescope that delivers great results.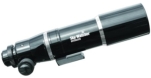 Specifications for the Equinox 66
Optical Design ED Apochromatic
Lens Material FPL-51
Diameter 66 mm
Focal Length 400mm
Scondary Mirror Diameter n/a
F/ratio F/6
Highest Practical Power 132x
---
Return From Skywatcher Equinox 66 OTA Telescope To Skywatcher Telescopes
Telescopes Home Page