Skywatcher Explorer 130P
The Skywatcher Explorer 130P has won numerous magazine and forum awards, and is an illustration of remarkable modern value for money and performance.
This scope is a superb option for anyone looking to upgrade from a beginner's scope, to one that is more advanced that will show celestial objects in significantly greater detail.
High quality accessories include 25mm and 10mm eyepieces which are bright and pin-sharp providing 26x and 65x magnification respectively.
A 2x Barlow lens that is used by placing it in front of the eyepieces. This effectively doubles the focal length of the telescope and in so doing doubles the magnification of every eyepiece.
The red dot LED finder is another terrific blessing, particularly for the novice user. The electronic finder was designed to be used with both eyes open and from almost any viewing distance.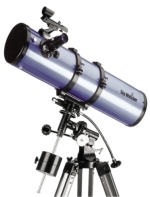 Features
Magnifications (with optics supplied): x26, x52
Highest Practical Power (Potential): x260
Diameter of Primary Mirror: 130mm
Telescope Focal Length: 650mm (f/5)
Eyepieces Supplied (1.25"): 10mm & 25mm
Parabolic Primary Mirror
0.5mm Ultra-Thin Secondary Mirror Supports
Red Dot Finder
EQ2 Equatorial Mount
Aluminium Tripod with Accessory Tray
30% more Light Gathering than 114mm
---
Return From Skywatcher Explorer 130P To Skywatcher Telescopes
Telescopes Home Page