Skywatcher Filters
There are a range of Skywatcher Filters available to complement your Skywatcher telescope. The most recent Lunar Planetary filter set will enable you to get the finest possible view that you can from your telescope.
These filters which are offered in 1.25 inch/31.7mm format are fitted by simply screwing them onto the rear of the majority of eyepieces that you can buy, and will improve on both the contrast and details on the primary planets.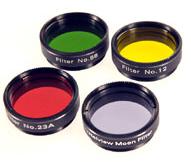 The Skywatcher lunar and planetary filter set comprises of 4 high quality glass colour filters. Yellow, Red, Green and Moon/Neutral Density Filters,all supplied in an attractive foam-lined plastic screw top storage case.
Wratten filter numbers
Yellow #12
Red #23A
Green #56
Neutral Density (Moon filter)
Skywatcher Variable Polarising Filters
These Skywatcher Filters are available in 1.25" and 2 inch. They are high quality anodized aluminium, optical glass variable polarising filters which will reduce the amount of light entering your eyepiece.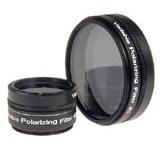 You can progressively dim the view when observing a bright object, such as the Moon or certain planets, to a level according to your needs, whilst increasing contrast, reducing glare and increasing the amount of detail that can be studied. The light transmission can be varied from 40% down to as little as 1%.
The filter will not change the colour of the object being viewed and will prevent eye fatigue and loss of night vision. Each filter set consists of two polarizing filters, one which can be rotated in its cell to adjust the brightness.
These Skywatcher filters, used as single elements, can also be used for daytime terrestrial use for reducing sunlight glare from lakes oceans or window glass.
Skywatcher OIII Narrowband Filter
Available in 1.25 inch and 2" the OIII narrowband filter is specially designed for the observation of gas and planetary nebulae.
It distinguishes different contrasts of the wavelengths of light that pass through, giving ideal conditions for the observation of faint super nova remnants and planetary remnants.
The O-III narrow band-pass filter isolates just the two doubly ionized oxygen lines (496 and 501nm) emitted by diffuse, planetary and extremely faint nebulae. O-III filters work ideally with larger aperture telescopes in the 200mm and larger range.
With larger aperture telescopes, observers will have a better opportunity to identify nebulae objects in the deep sky.
It can produce near-photographic views of the Veil, Ring, Dumbbell, Orion, plus many other nebulae under dark skies. Supplied with storage case.
Skywatcher Moon Filter
Moon filters control the light transmission to your eye from the bright lunar surface providing a comfortable view with increased contrast.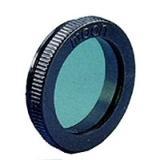 This 1.25" filter from SkyWatcher uses a standard filter thread that suits all eyepieces and accessories equipped with a 1.25" filter thread.
Ideal for lunar observing -reduces the glare and enhances the surface detail. Fits into any normal 1.25" eyepiece.
Skywatcher Ultra High Contrast Filter
Available in 1.25" and 2 inch, the narrowband UHC filter, like the O-III filter, isolates the two doubly ionized oxygen lines (496 and 501nm) in addition to the hydrogen-beta line (486nm) emitted by planetary and most emission nebulae.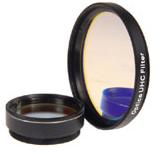 This filter permits superb views of objects like the Orion, Lagoon, Swan and other extended nebulae.
It performs well in smaller aperture instruments owing to its greater light transmission than the O-III, yet still suppresses light pollution well.
The UHC filter is the best all-around dark-sky nebula filter. Available in two sizes, threaded to fit either standard 1.25" or 2" astronomical eyepieces.
---
Return From Skywatcher Filters To Telescope Filters Main Page
Telescopes Home Page