SkyWatcher Heritage 130P
The SkyWatcher Heritage 130P Flextube is a superb quality 130mm Dobsonian Telescope with parabolic optics specially designed to celebrate the International Year of Astronomy 2009 and the 400th Anniversary of Galileo's first telescope.
This scope is a highly functional precision optical instrument as well as a wonderful collector's piece.
The telescope tube is adorned with the names of numerous famous figures that have made important contributions to the advancement of astronomy over this 400 year period, including Galileo himself.
Housing the same superb Parabolic Primary Mirror as Skywatcher's award winning Explorer-130P, this telescope is an excellent and capable all-rounder which will provide wonderful views of both the Moon and Planets as well as Deep-Sky Objects.
The collapsible patented FlexTube system has been incorporated making it even more compact and convenient to transport and store. The uncomplicated manually operated Dobsonian alt-azimuth mount makes it a superb, highly portable, grab-and-go system.
The Heritage 130P telescope is quick to assemble, simply attach the red dot finder align it and you're ready to go. On a clear night you will appreciate the amount of detail that can be seen of the craters and mountains on the Moon.It is even possible to see the rings of Saturn and it's moons.

If you have a casual interest in astronomy and would like an economical yet powerful starter's scope, which is straightforward to setup and doesn't occupy a lot of space when not being used, then this scope is a good choice.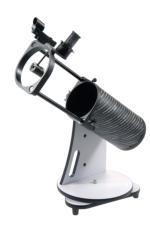 Specifications
Magnifications (with eyepieces supplied): x26 & x65
Highest Practical Power (Potential): x260
Diameter of Primary Mirror: 130mm
Telescope Focal Length: 650mm (f/5)
Eyepieces Supplied (1.25"): 10mm & 25mm
Parabolic Primary Mirror
Single-arm Secondary Mirror Support
Red Dot Finder
Wooden Alt-Azimuth Mount
Collapsible/ Extendable Tube Assembly
Overall maximum height: 46cm (collapsed), 69.5cm (extended)
Weight Approx 6.2kg
Built-in Carrying Handle
30% more Light Gathering than 114mm models
---
Return From SkyWatcher Heritage 130P To Skywatcher Heritage Main Page
Telescopes Home Page