Skywatcher Merlin Synscan
About The Skywatcher Merlin Synscan
The Merlin TableTop GOTO mount is another new exciting development from Skywatcher.It is quick and convenient to set-up on a patio or picnic table and ideal for travelling with, due its compact size.
Compact telescope OTA's up to approximately 4kg can be attached via the standard Sky-Watcher/Vixen dovetail bar fitting. Also spotting scopes can be attached via their tripod adaptor bush and mounted on the supplied L-Bracket.
The SynScan AZ hand control allows you point your telescope at a specific object, or even tour the night sky at the touch of a button. The user-friendly menu system allows automatic slewing to over 42,900+ night sky objects.
Even an inexperienced astronomer can master its variety of features in a few observing sessions.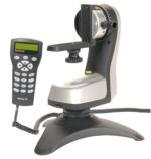 Specifications
SynScan Database: Total 42,900+ Objects, including Complete M, NGC, IC & SAO Catalogues
Alignment Method: Two-star or Brightest star alignment
Pointing Accuracy Enhancement (PAE) feature
Unknown Object Indentification feature
Pointing Accuracy up to 10 arc min
Tracking Rates: Sidereal, Lunar, Solar
Slewing Speeds: 1.0x, 2.0x, 16x, 32x, 64x, 128x, 400x, 500x, 600x, 800x
Tracking Mode: Dual Axis Tracking
Quiet Operation
Motor Type & Resolution: DC Servo Motors. Resolution 0.8923 arc sec or 1,452,425 steps/rev
PC Compatible: can be used with popular Planetarium Software.
SynScan Handset Firmware upgradeable via the Internet
Height 35cm
Weight 2.9kg
Power Requirement: 12v DC Power Supply (Tip Positive) or AA Batteries (not supplied). Sky-Watcher 7Ah or 17Ah Power Tank
---
Return From Skywatcher Merlin Synscan Az Goto To Skywatcher Telescopes Main Page

Telescopes Home Page