iOptron SmartStar R80 Refractor Telescope
The iOptron SmartStar R80 is an 80mm refractor telescope equipped with the award-winning Cube telescope mount.
This compact mount design is probably the most functional and flexible unit on the market.
Both axis motors are built into a small single unit which is universally compatible with all telescopes using a dove-tail connection.
It is known for its quick setup process and easy-to-learn features such as automatic star pointing and tracking.
The precision design is excellent for viewing bright stars, planets and their moons, as well as for bird watching and other land objects.
Two eye pieces come standard to allow for flexibility in viewing either a wider field or a single focused object.
This is a scope that will appeal to beginners and serious astronomers alike.
Features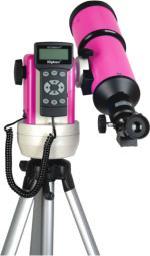 80mm refractor optical tube assembly with 400mm focal length
K10 and K25 eyepieces
1.25" 45-degree diagonal
CubeTM alt-azimuth telescope mount
Aluminum tripod with adjustable height control
8405 GoToNovaTM hand controller with 5,000 objects
---
Return From iOptron SmartStar R80 Refractor Telescope To iOptron Telescopes