Starlight Xpress SXVR-M26C Camera
The Starlight Xpress SXVR-M26C Camera with SuperHAD technology and a large format make this CCD camera a real winner.
Single-shot colour avoids the complication of using a filter wheel and multiple exposures. High sensitivity and low noise produce outstanding results.
The built-in autoguider control and serial outputs allow control of many telescopes and accessories, all through one USB cable.
Not only does the M26C perform superbly, it will simplify your astro-photography setup. It's a great choice for anyone who wants a really capable setup with minimum fuss.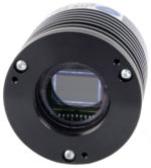 Starlight Xpress SXVR-M26C Specification
CCD type: Sony ICX493AQA SuperHAD CCD with ultra low dark current, Bayer RGB matrix and vertical anti-blooming.
CCD Full resolution Pixel data: Pixel size: 6.05uM x 6.05uM, Image format: 3900 x 2616 pixels
CCD Image area: 23.4mm (Horizontal) x 15.6mm (Vertical).
CCD quality: Grade 1 or better - No bad columns, no dead pixels, no more than 50 'hot' pixels (saturated in <10 seconds).
Spectral Response: QE max at 540nM (~55%), 50% roll-off at 400nM and 650nM.
Readout Noise: Less than 9 electrons RMS - typically ONLY 7 electrons!
Full-well capacity: Greater than 25,000 e- (unbinned)
Anti-blooming: Overload margin greater than 800x.
Dark current: Dark frame saturation time greater than 100 hours. Less than 0.02 electrons/second @ + 10C ambient.
Data format: 16 bits.
System gain: 0.3 electrons per ADU
Computer Interface: Built-in USB 2.0 compatible interface.
Image download time: Typically 10 seconds at full resolution.
Power requirements: 115VAC / 240VAC @ 12VA, or 12VDC @ 900mA max.
Cooling system: Regulated set-point cooling supply with two stage thermoelectric cooler to give a minimum CCD temperature of approximately -35C below ambient.
Size: 75 x 70mm black anodised aluminium barrel with 42mm 'T2' thread at the CCD window end & input/output plugs at rear. CCD alignment screws are provided for setting the chip parallel to the focal plane.
Weight: approx. 400g.
---
Return From Starlight Xpress SXVR-M26C Camera To Starlight Xpress CCD Camera Main Page
Telescopes Home Page