Stellarvue SV115T35 APO Triplet
The Stellarvue SV115T35 APO Triplet was originally designed to be the best visual and most portable refractor telescope in the range. It delivers visual performance that exceeds that of any other 4" refractor while remaining light weight. With reflector-like color correction and the best contrast, this is the ultimate dream machine for observers.
This Stellarvue SV115T35 telescope clearly discerns fine planetary details, splits close double stars, and displays extended regions of nebulosity under dark skies. Spherochromatic correction is as good or better than any current, grab and go, production telescope they produce, excluding the larger SV160R. The photographic performance of this telescope when using an APS or smaller chip is enhanced when used with the SFF7-21 field flattener.
Fully multicoated apochromatic triplet objective
With a 115 mm f-7 apochromatic triplet objective, this telescope provides extremely high contrast, a perfect star test and reflector-like color correction. Lenses are hand figured by a master optician to a high Strehl ratio.
This is a no-compromise optic that will perform as well as or better than any lens in its size class. To further enhance this high level of contrast, extreme broadband multicoatings are used on all six lens surfaces, making the stars appear vivid and the background velvet black. These coatings transmit light above and below the visual spectrum, minimizing reflections seen on ccd images.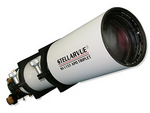 Stardust white aluminum tube and dew shield
The aluminum tube and dew shield is painted in a lustrous stardust white finish and has black anodized aluminum fittings. When the telescope is used, this dew shield may be extended to minimize dewing of the objective at night and to serve as a glare shade during the daytime. When being stored, the dew shield retracts to reduce the length of the telescope.
Internal tube treatment
The main tube interior is painted "ultra flat" black inside and is baffled to eliminate excess light reflection. The 11 baffle ridges of the focuser drawtube are painted "ultra flat" black to eliminate the most common type of reflections. This treatment is far better than drawtubes that are merely threaded. The blackened edges of the objective are the final method used to preserve the outstanding contrast of this exceptional apochromatic lens.
3" Feather Touch dual speed focuser
The fully rotating 3" Feather Touch offers 3.5" of travel and is large enough to work with our biggest field flattener. There is no need to ever go larger than this massive 3" focuser. The Feather Touch features an ultra-smooth coarse/fine focus knobs (10:1 Ratio), internal brake system, ultra-low backlash system.
Aluminum hinged rings
The Stellarvue SV115T35 comes with two hinged, aluminum mounting rings. Each ring has five screws top and bottom. Threaded holes are 6mm. There is one center hole, two holes spaced 1.5" apart and two holes spaced 60 mm apart. You can utilize the optional TP-10 rail for telescope mounts that uses the Vixen style rail or use the optional TP6 for mounts that use the larger Losmandy style rail.
---
Return From Stellarvue SV115T35 Apo Triplet To Stellarvue Telescopes
Telescopes Home Page