Swan 15mm Eyepiece
The William Optics 1.25" Swan 15mm Eyepiece
offers a super wide angle design with 72 degree apparent field of view. Using a simple but sophisticated five lens optical system for generally higher contrast than more complicated optical designs used in some other super wide angle eyepieces that use up to eight lenses.
All lenses are fully multicoated for high light transmission. Lens edges and internal field stops are blackened to reduce internal reflections and improve contrast. The rubber grip ring is useful for safer handling of the heavier 2" eyepieces when wearing gloves in cold weather.
The eyepieces have soft roll down rubber eyecups for eyeglass use. They can be used for all types of observing, with all telescope types, but they are recommended for use with focal ratios up to f/6 and above.
Dust caps are provided for both ends of each eyepiece. A soft protective drawstring-equipped velvet storage bag is standard equipment with each.
This 5-element super-wide angle 15mm SWAN EP's panoramic views at 72 deg. F.O.V. will leave you speechless! For day and night! A very useful focal length which every user should have.
William optics are well-known for their outstanding number of optical devices. A substantial number of amateur astronomers implement them on the grounds that they do the task every bit as others coming in at double the price.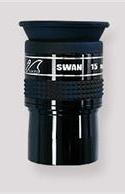 Specification
Model SWAN 15
Focal Length 15mm
Lens Structure (#Elements/#Groups) 5/4
Field of View 72
Eye Relief 14mm
Barrel 1.25"
Coating FMC
Parfocal Yes
Weight 90g
---
Return From Swan 15mm Eyepiece To William Optics Main Page
Telescopes Home Page