SWAN 33mm Eyepiece
The William Optics 2" Swan 33mm Eyepiece
, is extremely cost-effective yet provides excellent overall performance, being internally baffled and blackened, and fully multicoated it provides an amazing 72 deg. field of view. This provides a large lens rich field eyepiece at a very affordable price.
The 5 element optics of Swan eyepieces are very well made and will work well with telescopes having a focal ratio of F6 or slower.
The superwide 72 deg field of view are fully multicoated lenses, sharp and well contrasted, have excellent transmittance, and outstanding chromatic aberration correction.
With internally fully blackened (lens edges and internal spacers) there is no flaring or ghosting on high contrast objects.
The soft rubber eyecup and extremely long eye-relief has no internal reflections makes it a pleasure to use.
William optics is well renowned for it's superb range of optical accessories. A large number of amateur astronomers use them because the believe they perform equally as well as brands costing far more.
The High-resistance anodized black barrel and smooth design means there is for no hook up in your focuser.
Shown here are the 40mm,33mm and 25mm models.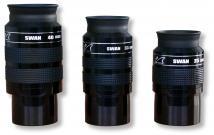 Specification
Internally baffled, All lenses' edges and internal spacers blackened, Fully multicoated
Model SWAN 33
Focal Length 33mm
Lens Structure (#Elements/#Groups) 5/4
Field of View 72
Eye Relief 25mm
Barrel 2"
Coating FMC
Parfocal Yes
Weight 410g
---
Return From SWAN 33mm Eyepiece To Williams Optics Main Page
Telescopes Home Page