Swarovski Binoculars
Swarovski Binoculars have a long history of producing reliable, high-quality optical systems and rugged construction.
Their SLC binoculars are among the world's most popular high-end binoculars.
The thumb rests on the underside and the depressions on the top side of the easy to handle rubber armouring guarantee secure and comfortable handling.
The sheer diversity of models among Swarovski SLC binoculars ensures the right solution for every conceiveable purpose.
All SLC 50 models are characterised by their 7x, 8x, 10x and 15x magnification features.
These high-performance binoculars with a high-quality 50 mm objective lens have excellent light-gathering qualities ensuring optimum observation.
The large SLC 15x56 models show off their strengths particularly when used in adverse light conditions and are thus excellent for observation in the transition period between dusk and night.
In the SLC series, Swarovski Optik employs high-quality technologies most notably the SWAROBRIGHT coating for optimum color fidelity throughout the entire light spectrum or the SWAROTOP and SWARODUR coatings for bright, high contrast images.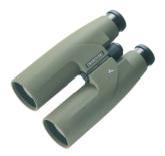 As with all SLC models, they are characterised by a high-quality optical system with optimised coatings and their sturdy design. The sturdy metal housing and non-slip rubber armouring ensure outstanding functionality.
SLC 15X56 Specification
Magnification 15x
Objective lens Ø (mm) 56
Exit pupil Ø (mm) 3.7
Exit pupil distance (mm) 13
Field of view at m/1000 m / ft/1000 yds 77 / 231
Field of view (degrees) 4.4
Field of view with eye glasses (degrees) 3.3
Subjective field of view, apparent (degrees) 64
Shortest focusing distance (m/ft) 8 / 26
Dioptric compensation (dpt) ±5
Interpupillary distance (mm/in) 59-76 / 2.3-2.9
Twilight factor acc. to DIN 58388 29
Length approx. (mm/in) [with eyecups twisted in] 215 / 8.47
Width approx. (mm/in) 128 / 5.04
Height approx. (mm/in) 71 / 2.8
Weight approx. (g/oz) 1290 / 45.5
Colours green
Snap Shot Adapter model S2
---
Return From Swarovski Binoculars To Astronomy Telescopes
Telescopes Home Page