Takahashi C400
The Takahashi C400 16" f/14 Classical Cassegrain is part of Takahashi's Observatory Series telescopes and is designed primarily for research and educational institutions.
This telescope comes standard with a removable f/10.4 focal reducer where a wider field of view is required.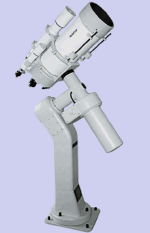 Because the C-400 employs the Classical Cassegrainian configuration with a parabolic primary mirror and hyperbolic secondary, extremely high resolution can be obtained without sacrificing contrast or a flat field.
Secondary obstruction is only 29% with this instrument as compared to 40% or greater with typical Ritchey-Chretien Cassegrains.
As with the FCT-200 and FCT-250 Observatory fluorite refractors, this instrument is designed for rigorous research applications and is constructed with meticulous craftsmanship throughout.
The optical tube assembly weighs in at 165lbs. so a heavy-duty, permanent equatorial mount with high-precision Go-To slewing such as Takahashi's Temma EM-2500 or EM-3500 (illustrated) is recommended for most applications.
Features
Optical System Cassegrain
Aperture 400mm
Effective Focal Length 5600mm
Effective Focal Length (with reducer) 4170mm
Focal Ratio F14
Effective Focal Ratio(with reducer) F10.4
Diameter of secondary Ø115mm
Length of main tube 1620mm
Tube Diameter 430mm
Weight of main tube 75kg (165lbs)
---
Return From Takahashi C400 To Takahashi Telescopes
Telescopes Home Page