Takahashi FS60CB Apochromatic Refractor
The Takahashi FS60CB apochromatic refractor is an excellent scope featuring outstanding optical and mechanical qualities (objective with Fluorite doublet) and an amazing compact design.
Its excellent versatility will appeal to all amateur observers. It can very easily be used for the visual observation, as well as astronomical or terrestrial. For photographers, it is transformed into wide field astrograph or guiding scope. For this last function, Takahashi proposes even an optional specific parallel support, the TGM.
Apochromatic objective with Fluorite doublet
Its first quality comes from its apochromatic objective with Fluorite doublet of 60mm of aperture, as good as refractors with higher diameter. The FS-60 will astonish more than one purist. When one knows what one can obtain from an excellent short focal length optic (F=355mm, F/D 5,9) in imaging, we immediately understand all the advantage of this small compact and transportable telescope.
Exceptional mechanics
Excellent Takahashi mechanics propels the FS-60CB at the top of the refractors of this category. Its tighted rack-and-pinion focuser is designed for astrophotography and CCD imaging. A thumb screw maintains the focuser in position whatever the direction of pointing is.
Versatility and performances
Light and compact, the FS-60CB can be easily change into planetary telescope or wide field CCD imager or auxiliary instrument for guiding, and this, thanks to a vast range of accessories.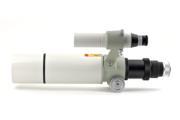 Specifications
Optical design Fluorite Doublet
Optical mounting Air spaced (Fluorite in front)
Optical coatings Fully Multi-Coated
Aperture 60mm
Focal length 355mm
Focal ratio F/5.9
Resolution 1.9"
Limiting magnitude 10.7
Finder 6x30
Tube ring clamshell
Light grasp 73x
Backfocus length 162.0mm
---
Return From Takahashi FS-60CB apochromatic refractor To Takahashi Telescopes Main Page
Telescopes Home Page