TAL 1 Telescope
The TAL 1 Telescope is a 110mm (4.5") f/7.3 Newtonian Reflector Telescope and manufactured to extremely high standards of optical and mechanical engineering, combining both excellent optical performance along with an extremely robust and thoughtfully designed mechanical layout.
It has wonderfully smooth slow-motion controls which make tracking a pleasure, together with a rock-steady pedestal stand it ensures complete operating stability, making it superior to that of any tripod.
An unbelievable package with an unequalled combination of performance, value and equipment levels than any rival telescope of this size.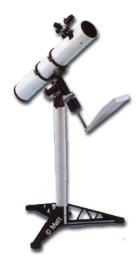 Regardless of whether you are observing the craters on the Moon, looking at the rings of Saturn or far beyond, for anyone lwho wishes to take a major step into this intriguing pastime the TAL-1 should not be ignored.
The superior quality of the construction and the attention to detail are immediately apparent. To illustrate, all fasteners are captive so they won't get lost in the dark. The TAL-1 is the ideal telescope for the newcomer or more advanced amateur astronomer at an amazingly affordable price.
Specification
Magnification (with Optics Supplied): x32, x64, x80, x160
Highest Practical Power (Potential): x275
Diameter of Primary Mirror: 110mm
Telescope Focal Length: 806mm (f/7.3)
Eyepieces Supplied (1.25"): 10mm and 25mm Plossls
x2 Barlow Lens
6x30 Finderscope
Rack and Pinion Focusing (1.25")
German Equatorial Mount with Slow Motion Controls
Heavy Duty Pedestal Stand with Built-in Vibration Suppression Pads
---
Return From TAL 1 Telescope To TAL Telescopes Main Page
Telescopes Home Page