TAL 150P Telescope
The TAL 150P Telescope is a classic 6-inch (150mm) aperture Newtonian reflector. It has a fast focal ratio of f/5 to permit astrophotography of nebulae, galaxies, and star clusters with modest exposure times.
However, performance at high magnifications on the Moon and planets is not compromised thanks to an exquisite parabolic primary mirror of 1/10-wave surface accuracy.
A classic design, it features a seamless aluminum tube with fully adjustable precision mirror cells and a 4-vane spider, a rack-and-pinion focuser with an elegant clamping ring that holds eyepieces firmly without marring their barrels, and a 8x50mm finderscope with 6-point thumbscrew alignment.
This scope is supplied with an equatorial mounting equipped with slow-motion controls on both axes, a rock-steady metal pedestal; two 1.25-inch Plossl eyepieces of 10mm and 25mm focal lengths; a 2x Barlow lens; a set of solar, lunar, and color filters; and an adaptor for 35mm SLR cameras.
The TAL-150PM model also includes a an enclosed worm-and-wheel motor drive in Right ascension for effortless tracking of celestial objects under observation..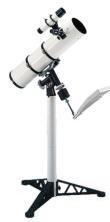 Features
Magnification (with Optics Supplied): x30, x60, x75, x150
Highest Practical Power (Potential): x375
Diameter of Primary Mirror: 150mm
Telescope Focal Length: 750mm (f/5)
Eyepieces Supplied (1.25"): 7.5mm & 25mm Plossls
x2 Barlow Lens
8x50 Finderscope
Parabolic Primary Mirror
Crayford Focuser (1.25/2")
---
Return From TAL 150P Telescope To TAL Telescopes
Telescopes Home Page