Tal 2 Telescope
The TAL 2 telescope is a impressive example of a 6-inch f/8 Newtonian reflector, which for many years the traditional instrument of the keen amateur astronomer.
The standard of construction leaves nothing to be desired.
The premium optics are in fully adjustable cells mounted in a seamless aluminum tube.
There is a sturdy heavy-duty equatorial mounting complete with engraved setting circles, motor drive, and manual slow motions on both axes, rotating felt-lined rings, an 8x50mm finderscope with detachable dovetail base, fitted wooden storage and carrying cases.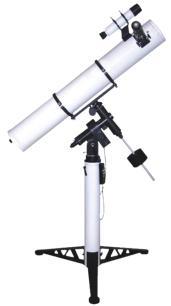 The adjustable declination axis counterweight is secured with an intricate collet mechanism.
The rack-and-pinion focuser features a unique tension adjustment so that it can easily carry the load of a camera, all fasteners are captive so that they'll never get lost in the dark.
A full complement of accessories are included
A sun projection screen; solar, lunar, and color filters; three eyepieces of 42mm, 25mm, and 15mm focal lengths, a 4x Barlow lens, and an adaptor for photography with a 35mm SLR camera.
---
Return From TAL 2 Telescope To TAL Telescopes Main Page
Telescopes Home Page