Televue 85
This Televue 85 telescope is an air spaced doublet APO, 85mm aperture, f/7,with an 600mm focal length. It comes supplied with a soft carrying case, 20mm Plossl eyepiece, ring mount, sliding dew shield, machined front cover, 2" rack and pinion focusser, and 2" star diagonal with a 1-1/4" adapter. The length is 21.5" and weight approximately 8lbs.
The apochromatic functionality of the innovative Nagler designed, fully multi-coated 2-element objective and 2" Everbrite diagonal deliver natural stellar and planetary color rendition even when at the highest practical powers.
All air-to-glass surfaces in the Tele Vue 85 are multicoated to deliver high transmission and essentially eliminate internal reflections. The tube's textured, flat-black inner surface also suppresses reflections so it helps to deliver high-contrast images.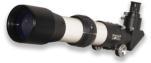 The diagonal itself is known for its legendary full 99% reflectivity properties making it possible for the use of long focal length 2" eyepieces.
Regardless of whether your driving beyond the theoretical magnification limits of 150x magnification or taking your breath away with extraordinary low power, picture window views of the heavens, the Tele VueTV-85 is there waiting to deliver.
There is also a solid brass version of the Tele-Vue 85 for individuals who take pleasure in the traditional appearance of this material.
---
Return From Televue 85 Telescope To Televue Telescopes Main Page
Telescopes Home Page