Televue Air Chair
The Televue air chair will allow you to spend a much longer period of time at your telescope eyepiece, and more time spent at the eyepiece offers a greater opportunity to detect subtle details you may otherwise miss.
You can find the optimal height range with just a the flick of a lever. This airchair works for all TeleVue scope and mount combinations and enables tripods to be used at their most stable heights.
There's no doubt that the use of an airchair will add a whole new dimension to all your observing sessions. The ability to be able to sit and relax in comfort during your viewing sessions is a major benefit.
The pneumatic piston adjustment allows for quick and repositioning for different observation heights and observers. The seat can be adjusted from 21" to 28" thereby allowing you to obtain the most comfortable viewing position.
The airchair can be used on practically any surface as the thick rubber foot pads protect the legs whilst in the field, and prevent floors from being scratched.
Easy to setup and maintain
The air piston is completely sealed and requires no maintenance. It should be noted however that the performance of the piston can be affected by operating in low temperatures i.e below 20 degrees F.
It is very important if you wish to prolong the life of the piston to use and store the airchair above 20 degress F.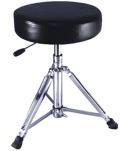 Features
Seat Height: 21" to 28"
Lift: Pneumatic Piston
Legs fold, seat removes,for easy transport.
---
Return From Televue Air Chair To Televue Telescopes Main Page