Ultra High Contrast Filters
Is this the ultimate nebula filter? The original Lumicon 1.25in Ultra High Contrast Filters are unbeatable for revealing nebulosity.
This is achieved by passing three nebula emission lines-the two doubly ionized oxygen lines (496 and 501nm) and the H-beta line (486nm)-while blocking light-pollution and Sky Glow.
The result is superb views of the Orion, Lagoon, Swan and other extended nebulae.
To ensure that your Lumicon filter remains the World's Best, the strictest quality control standards are employed throughout the production process.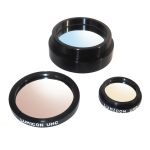 All filters are individually inspected and proudly inscribed with the percentage of light transmittance of the OIII and H-beta emission lines.
Also available in 2", and a Cassegrain rear cell which allows you to change eyepieces without threading/unthreading the filter. This makes it easier to change-out than the standard 2" filter cell with gloves on, for cold-weather observing.
---
Return From Ultra High Contrast Filters To Lumicon Filters
Telescopes Home Page