William Optics UWAN 28mm Eyepiece 2"
The William Optics UWAN 28mm Eyepiece 2" is the latest Ultra Wide Angle eyepiece in the series, offering a terrific performance at a truly great price.
The ultimate eyepiece for ultra wide field views. Great 2" 82 deg.field of view. Ideal for rich-field views at moderate power.
It perfectly fits the description of "a great premium eyepiece at an unbeatable price": you will never part with it, and it will give you great low-power views of our galaxy for many nights.
You may want to check out prices of competing products and then make up your mind after a trial session with this outstanding eyepiece.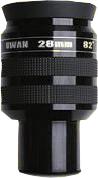 Specification
Internally baffled, All lenses' edges and internal spacers blackened, Fully multicoated
Focal Length 28mm
Field Stop Diameter 43.5mm
Lens Structure (#Elements/#Groups) 6/4
Field of View 82
Eye Relief 18mm
Barrel 2"
Coating FMC
Parfocal Yes
Weight 1000g
---
Return From William Optics UWAN 28mm Eyepiece 2" To William Optics Main Page
Telescopes Home Page