William Optics UWAN 7mm Eyepiece 1.25"
This William Optics UWAN 7mm Eyepiece 1.25" is a stunning Ultra Wide Angle (UWA), for breathtaking observation sessions with your telescope. This 7-element UWAN eyepiece is ideal for rich-field observations at medium-high power. Ideal for fast focal ratio telescopes such as Dobsonians.
The super wide field of view offer an outstanding 82 deg ultra-wide field of view . Fully MultiCoated (FMC) glass for excellent light transmittance, reduced chromatic aberration and improved contrast compared to similar eyepieces.
Great contrast, with fully internally blackened (lenses' edges and internal spacers), no flaring or ghosting on high-contrast objects.
It's light and easy with innovative twist-up rubber eyecup, long eye-relief, 12mm and there are no internal reflections, kidney beaning or other distracting distortions.
This eyepiece has wonderful fit and finish, a high-resistance anodized black barrel, a super smooth design for no hook up in your focuser and threaded for filters' usage.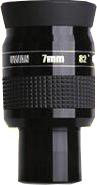 Specification
Internally baffled, All lenses' edges and internal spacers blackened, Fully multicoated
Focal Length 7 mm
Field Stop Diameter 12 mm
Lens Structure (#Elements/#Groups) 7/4
Field of View 82
Eye Relief 12mm
Barrel 1.25"
Coating FMC
Parfocal Yes
Weight 200g
---
Return From William Optics UWAN 7mm Eyepiece 1.25" To William Optics Main Page
Telescopes Home Page