Vixen 130mm Reflector Telescope
This lightweight Vixen 130mm reflector telescope is a favorite of countless astronomers mainly because it features exceptional light gathering with razor-sharp images for its size and price..
Using a standard 20mm Plossl, the entire moon fills the eyepiece. You'll also see many star clusters and dark clouds, as well as nebulas and galaxies.
Add a 32mm and the heavens open up with a remarkable 2.5 degree field of view. Every one of the stars in the Pleiades can be seen at the same time. The visual observer will appreciate wide views of deep sky objects.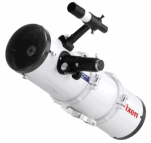 A 6x30 finder comes as standard as well as two eyepieces and a dovetail tube plate that fits all of the Vixen mounts. This is a scope you can start with on a basic user-friendly Porta II Mount and when you're ready progress to one of the electronic mounts like the Sphinx SXW.
Universe Today says "The Vixen R130Sf is absolutely the perfect size for someone who needs enough aperture to light up popular deep sky objects, but doesn't need to lug around a 12" telescope".
Features
650mm F/5.0
Eyepieces PL20mm, PL 6.3mm
Finder scope
6 x 30 Finder
Highest Useful Magnification
260x
Limiting Stellar Magnitude
12.3
Resolution: Rayleigh
Resolving power : 0.89"
Light Gathering Power
345x
Field of View: standard eyepiece
with LV20mm : 1.5 degrees - 40x
Optical Coatings
Multi-coated
Optical Tube Length
Tube diameter 140mm / 5.5 in
Length 650mm / 25.5 in
Optical Tube Weight
9 lbs
---
Return From Vixen 130mm Reflector Telescope To Vixen Telescopes
Telescopes Home Page