Vixen A70lf Achromatic Refractor
The Vixen A70lf, although easy on the pocket, shouldn't be considered a toy telescope. It has exactly the same high quality glass and exacting craftsmanship that goes into Vixens much larger instruments.
The A70Lf is an Achromatic Refractor with 70mm (2.8") of aperture. Its focal length is 900mm (3 ft.) with an f ratio of 12.9. This lightweight telescope has a maximum magnifying power of 143x and reaches a limiting visual magnitude of 11.
Its light gathering is 100 times better than the human eye and has a maximum (realistic) power of 143X. It weighs about 4 lbs and is covered by Vixen's 5 Year Warranty.
With this size of aperture you will, be on your way to discovering the craters and mountains on the moon, the rings around Saturn and storms on Jupiter.
Add a star chart and you will find eye-catching double stars of varying colors, and on moonless nights, you'll see the Andromeda Galaxy, Orion Nebula and countless other deep sky objects.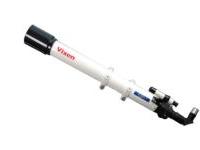 Specifications
Optical Design Achromatic Refractor
Aperture 70mm
Focal Length 900mm
Focal Ratio f/12.9
Resolving Power 1.66 arc sec
Limiting Magnitude 11.0
Light Gathering Power 100x
Finder Scope 6x24mm Finder; Field of View 5°
Adapter Thread 42mm/ For T-Ring
Visual Back 31.7mm Push Fit
Optical Tube Length 33.8" (860mm)
Optical Tube Diameter 3" (76mm)
Optical Tube Weight 4.2 lb
Accessories PL20mm; PL6.3mm; 31.7mm Erect Image Diagonal; Dew/Sun Shield (not for solar observing) ; Tube Rings and Vixen Dovetail Plate
---
Return From Vixen A70lf Achromatic Refractor To Vixen Telescopes Main Page
Telescopes Home Page