Vixen Atlux Equatorial Mount
The Vixen Atlux Equatorial Mount is a midsized GoTo mount that features the Star Book hand controller. The mount has been designed and manufactured to provide the best possible slewing and tracking capability in an convenient and portable package.
The counterweight shaft is retractable for transport and storage. With a maximum load weight of 75 lbs.
The Atlux is the ideal choice as a solid platform for long exposure astrophotography. Accuracy, smooth and quiet operation and an sleek design make the Atlux appealing to all levels of astronomer
All of Vixen's Equatorial Mounts enable you to track an object relative to the rotation of the earth over a prolonged time period. The GP2 and GPD2 Mounts are really easy to operate and developed for both the celestial and terrestrial observer.
These mounts can be upgraded with motors and/or the Star Book's GoTo System. The large full color screen on the Star Book hand controller, with star chart navigation and intuitive controls, guides the Atlux Mounts.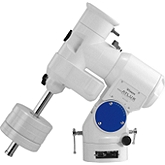 Vixen Starbook
Features and menu options are displayed on the large color screen and are easily navigated with simple buttons on the controller. The Star Book is amazingly easy to use and makes the Atlux accessible to a wide range of ages and experience levels.
Specification
Maximum weight capacity of 75 lbs!
Innovative Star Book hand controller includes full color LCD screen and 22,000+ object database!
Polar Axis scope: 6x20mm 8-deg field of view
Power source: DC12 volts, 0.4 to 1.7 amps
Weight: 19.7 kg (43.4 lb) without counterweight
---
Return From Vixen Atlux Equatorial Mount To Equatorial Mount Main Page
Telescopes Home Page