Vixen ED80sf Telescope
The Vixen ED80SF telescope was initially listed as an entry level APO, but now with so many astronomers giving such glowing reviews, it appears that Vixen will need to reclassify this product.
The ED80Sf refractor with Vixen's new Dual Speed Focuser, features high-grade glass and quality components.
Coupled with a medium f/7.5 focal ratio, the ED "S" series provides a sharp, color-free image of high contrast. At only 22.4", this is Vixen's ultimate grab-n-go APO travel scope.
The ED80Sf comes complete with a 9x50 finder-scope, finder bracket, 2" eyepiece adapter , 1.25" flip mirror , tube rings, dovetail plate and aluminum telescope case.
Included case features reinforced corners, lockable latches, padded handle, rubber feet, three solid foam compartments (for OTA, flip-mirror and finder scope/stalk) and interior eggshell foam on lid. Maximum case exterior dimensions (including hardware) are 66cm x 31cm x 30cm / 26in x 12.2in x 7.9in.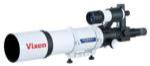 Specification
Optical tube 80mm 3.15" ED Apochromatic Multi-coated
Focal Length / f# 600mm f/7.5
Eyepiece Not included
Highest Useful Magnification 160x
Light Gathering Power 131x
Resolving Power 1.45 arc sec, 11.3
Optical Tube Length Tube diameter 100mm/4 in
Length 570mm / 22.4"
Outside Dew Shield Diameter 116mm
Optical Tube Weight 7.5 lbs. / 3.4 kg.
Accessories Dovetial Plate, Tube Rings
Photography Prime Focus, Eyepiece projection and Afocal Imaging
---
Return From Vixen ED80sf Telescope To Vixen Telescopes Main Page
Telescopes Home Page