Vixen Gaiax Mount
The Vixen Gaiax mount is a heavy duty equatorial mount with a load capacity of 100 lbs. Designed with high precision zinc bronze 216 teeth worm gears, this mount can carry large aperture telescopes.
The Gaiax Mount is controlled by the Skysensor 2000 containing a database of over 22,000 objects.
With superb Go-To accuracy this mount is ideal for the discerning astronomer with a permanent observatory in mind.
The SkySensor 2000 achieves highly accurate "Go-To" pointing and tracking of celestial objects.
The SkySensor 2000 is autoguider compatible and it also provides programmable "Periodic Error Correction" circuitry to improve tracking, this is particularly beneficial for astrographic applications. Includes Keypad Hand Controller, two Model MT-4 motors, and cabling.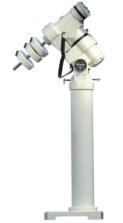 Vixen Gaiax Mount Gaiax on Pillar
Gaiax Mount Specifications
Max. Loading Wt. 44kg (100 lbs) Without counterweights
Tracking Accuracy +-2.5 arc seconds
Motors DC Motors
Search Speed 500x sidereal rate
Polar Axis Scope Built in 6x20mm
Counterweights 9.5kg (3)
Weight R.A Body: 20kg (44 lbs)
Decl Body: 39kg (86 lbs)
Pillar: 30kg (66 lbs)
Pillar Base: 22kg (48.5 lbs)
---
Return From Vixen Gaiax Mount To Equatorial Mount Main Page
Telescopes Home Page