Vixen Space Eye 50 Refractor Telescope
Now is the time to start your discovery of the universe with the Vixen Space Eye 50 refractor telescope. Observing the stars has never beens o easy as with this user friendly telescope. Everything is provided for you to begin your discovery of the night sky.
This telescope from Vixen Telescopes will enable you to observe craters on the moon and some quite amazing views of planets.
Although small it's still able to reveal many of the most spectacular wonders of the night sky.
Through its space "eye" you'll discover the moons of Jupiter, craters on the Moon, the rings of Saturn, colorful double stars, vast nebula, bright clusters plus much more.
Vixen is a world leader in telescopes, and has been making refractor telescopes for upwards of Six decades.
Light is gathered through the objective lens to provide a consistently stable field of view. Vixen refractor telescopes are easy to store and handle making them an excellent choice for any astronomical observing.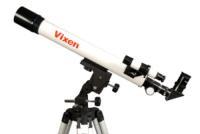 Features
Effective Aperture: 50mm
Focal Length: 580mm
Resolving Power: 2.32 arc sec.
Light Gathering Power: 51x
Finder Scope: 5x20mm
Visual Back: Insertion 31.7mm push fit
Eyepiece: PL20; PL4
Altazimuth Mount with Tripod
Other Accessory: Erect Image Diagonal; Accessory Tray
Total Weight: 6.2 lbs
---
Return From Vixen Space Eye 50 Refractor Telescope To Vixen telescopes Main Page