Vixen Starguy Alt Azimuth Pro
The Vixen StarGuy Alt Azimuth Pro is the next step up from the well known Porta II Mount. Featuring the well designed Porta II head on top of the HAL130SXG heavy duty tripod for a rigid platform with superb stability.
The "World-Standard" dovetail attachment system on the StarGuy Alt Azimuth was developed by Vixen.
This enables the Alt Az Pro head to accept a variety of dovetail mounted optical tubes and binoculars. Additionally it includes a metal accessory tray and 2 long flex handles.
This mount combines the optimal elements of a number of different Vixen Mounts.
The StarGuy Alt Az Professional Mount is an user-friendly and uncomplicated mount that brings together high quality components for outstanding stability and is a great companion for your telescope system.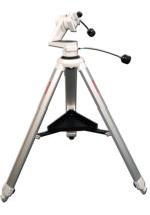 Features
Mount: Porta II Altazimuth Mount
Tripod: HAL 130SXG Tripod
Mount Weight: 18 lbs including tripod
Load Capacity: 20 lbs
Vertical and Horizontal Slow Motion: 120 Tooth Wheel Gears whole circle movement; Friction control system
Telescope Attachment: Dove Tail Plate
Accessories: Flexible Slow Motion Handles (2), Accessory Tray, Tool Kit
---
Return From Vixen StarGuy Alt Azimuth Pro To Alt Azimuth Mount Main Page