Vixen VMC330L Telescope
This is not merely just another catadioptric telescope, the Vixen VMC330L telescope is a true all purpose scope. With two Dielectric coated mirrors and two high-precision corrector lenses, one of which is a meniscus lens.
This scope produces sharp images with no hint of false color. The corrector lenses, in front of the secondary mirror, virtually eliminate spherical aberration and field curvature. Focusing is through primary mirror movement. The f/13 optical system is suitable for observation of all types of celestial objects.
The VMC330L has great contrast, and is an excellent telescope for observing galaxies, faint nebula and distant planets. With its open tube the telescope cools down quicker than an SCT or classical Maksutov-Cassegrain.
The optical design of the VMC330L is great for high grade astro imaging. The meniscus correcting lens offers a large corrected field.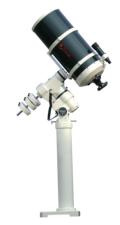 Specifications
Primary Mirror 330m Diameter, Sperical, Pyrex, Dielectric Coating
Secondary Mirror 86mm Diameter Spherical Mirror, Pyrex, Dielectric Coating
Secondary Mirror Obstruction 102mm Diameter; Corrector Lenses: 2 element, multi coated
Finder scope
7x50mm (6.8 degrees)
Focuser
2" focuser (1.25" or T2 adaptations are optional)
Focusing Type Primary Mirror Micro-Movement
Mount Adaptation
Dovetail plate
Aperture / focal ratio
Aperture 330mm / focal ratio f/13
Weight 19.8 kg ( 44 Lbs.) OTA Only
Focal Length 4300mm
Visual Back 50.8mm (2 in.) , 31.7mm (1.2 in.)
Dimensions 390mm x 933mm (15.3 x 36.7 inches)
Mirror Coating Dielectric coating
Accessories Tube Rings and Plate, 7x50 Finder Scope
---
Return From Vixen VMC330L Telescope To Vixen Telescopes
Telescopes Home Page