Vixen VMC95L Telescope
The lightweight Vixen VMC95L telescope, is a 95 mm (3.7 inch) aperture modified Cassegrain f/11 optical tube assembly.
With a curved vane Secondary Mirror Spider to reduce diffraction effects, this small telescope performs like its larger cousins the VMC110L, and VMC200L.
The Vixen VMC95L Modified Cassegrain telescope features sharp optics combined with portability. The built-in focuser slides the primary mirror.
The VMC95L also contains a built-in 1.25" diagonal and straight-through camera port. Photography is easy.
Attach your camera to the telescope and view through the eyepiece then slide the diagonal and take a picture of your target. Includes one eyepiece and a red dot finder.
Telescope Specifications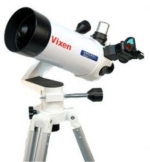 Design: Reflector, Modified Cassegrain
Objective Diameter: 95mm
Focal Length: 1045mm F/11
Diagonal: 1.25" Built In Star and Straight Through Camera Port
Focuser: Built In, Slides Primary Mirror
Built in Dew Shield, with Unique Curved Secondary Holder
Includes Universal GP Dovetail to fit all Vixen and many other mounts and PL 25 eyepiece
Weight: 4lbs (extremely portable)
This Vixen package is even more special because of the Vixen Mini Porta Mount. It's much more stable than an entry level altzamuth mount, the Vixen Mini Portamount comes with two very good adjustment handles for whole circle slow motion in both directions, extremely helpful in searching and tracking celestial objects.
Additionally, the Vixen Mini Porta Mount is superb for terrestrial viewing. Vixen gear drives make it a straightforward matter to precisely track a planet simply by turning the elevation and/or azimuth control handles. The Mount is sturdy, too. It will carry a maximum weight of eight pounds, yet weighs in at only six lbs.
---
Return From Vixen VMC95L Telescope To VixenTelescopes Main page
Telescopes Home Page