William Optics GT81 FD APO
The magnificent innovative William Optics GT81 APO is the brand new gem of the apochromatic refractor world. From the pristine white finish on the CNC to the elegant dark red beauty which has more than just good looks.
The Gran Turismo GT81 incorporates a 3-element objective using high-quality FPL-53 extra-low dispersion glass that reduces any secondary spectrum to an unbelievable degree.
The Triplet air-spaced objective (FPL-53) in adjustable CNC machined ultra high precision lens cell is extremely sharp and optically unbeatable.
Each lens is fully multi-coated with a special super-high transmission coating (STM Coating) on all surfaces.This F/5.9 lens and 2.5" DDG Focuser make it well suited for astrophotography.
The Digital Display Gauge - DDG - allows you to take precise focusing readings down to two decimals precision instantly. Extra-smooth 360 degree rotatable 2.5" Crayford focuser with 1:10 dual speed: a treat to use during astrophotography with no image shifting.
The scope comes furnished with 2 locking screws on angled positions for heavy load applications and a large aluminum knob with installed thermometer.
The stainless steel reinforcement inserts on both sides and on the back allow for heavy loading without any problems. DDG integration will make your focusing experience the best you ever experienced with a telescope. It's graduated scale make for precise camera alignment.
The finish is simply eye-catching. William Optics quality fit and finish: powder-painted white CNC-machined aluminum tube, darkred finish, retractable dewshield, 360 degree rotatable PowerLinear focuser, dewshield cap.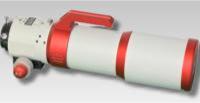 Specification
Aperture 81mm
Focal Ratio F/5.9
Focal Length 478 mm
Objective Type Triplet FPL-53 Air Spaced , Fully Multi-Coated, STM coatings
Resolving Power 1.43 seconds of arc
Limiting Magnitude 12.2
Lens Shade Retractable
DDG Focuser 2" 360° Rotating Camera-angle Adjuster, 1:10 fine focus
Focuser Travel Length 3.15" (80mm)
1.25" Adapter
1.25" Adapter Brass Compression Rings
Field Stops 2 Baffles
Tube Diameter 90mm
Tube Length 340mm Fully Retracted
400mm Fully Extended
Tube Weight 2.9 kg
---
Return From William Optics GT81 FD APO To William Optics Main Page
Telescopes Home Page