William Optics Star Diagonal
The William Optics Star Diagonal offers the highest achievable brightness, contrast and sharpness during critical observations with high end instruments.
This WO 90° 2" mirror dielectric diagonal features 100% real carbon fiber side plates that add that little touch of class your telescope deserves.
Offering top class performance and brightness, polished to 1/10th wave accuracy. The dielectric coating allows 99% reflectivity, and an accurate design guarantees constant alignment. There is no further alignment required.
There is SCT adapter available which is optional. The SCT ring makes your diagonal work on SC telescopes or WO ZS66 series as well.
Get JUST one diagonal and use it on any telescope.
Features
2" to 1.25" eyepiece adapter included.
Lock screw for eyepiece/adapter.
Big, knurled thumbscrews easy to turn even with gloves on.
Patented, elegant design
High-quality machining out of the best aluminum.
Internal antireflection for highest contrast.
Compression rings (both on diagonal and adapter) to prevent barrels marring.
Internal safety stop prevents 2" barrels from hitting the mirror.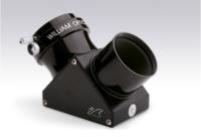 Specification
Ultra High Dielectric 99% reflectivity.
Precision 1/10 lambda surface with 10mm-thick mirror.
2"- 1.25" adapter with brass clamping ring.
Inside diameter (48mm): threaded to fit a variety of filters.
Weight : 470g
Thanks to the patented design of WO diagonals, you will always have a diagonal that performs as perfectly as on the first day you got it.


---
Return from William Optics Star Diagonal To Star Diagonal