Zhumell Barlow Lens
Use the 2-inch 2x ED Zhumell Barlow Lens with Compression Rings in conjunction with any eyepiece to effectively double your magnification.
The ED optical lenses provide superior image quality and contrast, maximizing the starlight that reaches your eye.
Other manufacturers employ standard optical glass in their Barlow lenses, which can actually decrease the amount of light that reaches your eye if improperly designed.
Users of all experience levels agree that a 2x ED Barlow lens is one of the first accessories you should own for your telescope. This model fits both 2-inch and 1.25-inch format eyepieces. It is of strong construction, very easy to use and a widely compatible adapter.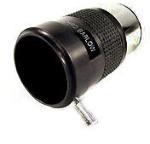 Specification
Doubles magnification power
Preserves light transmission for superb image quality
Brass compression ring stabilizes and aligns with accuracy
Fits 2-inch format telescopes
Fits 1.25-inch and 2-inch eyepieces
---
Return From Zhumell Barlow Lens To Telescope Eyepieces Main Page
Telescopes Home Page