Zhumell Z8 Telescope
The Zhumell Z8 Telescope is an 8" Dobsonian Reflector. It is reliable, easy to use, just as a Dobsonian should be and has been designed with quality and precision.
Amateur astronomers will frequently refer to the "light bucket" as the aperture needed to capture sufficient light to view faint objects in deep space.
This Zhumell Dobsonian has exactly that, an outstanding light bucket for gathering more light than many other telescopes very similar in size or price.
A right angle correct image (RACI) finderscope makes finding specific objects in the sky even easier, while a center-marked, 8-inch mirror provides the contrast and definition needed to really see the details.
Combined with quick collimation screws to easily align the mirror, a black optical tube, and a laser collimator for more precise alignment, this Dobsonian telescope makes the grade as an easy-to-use device, but offers a great deal more.
This model also comes with two eyepieces (30mm and 90mm), a 2-inch dual-speed Crayford focuser that accepts a full range of 1.25-inch and 2-inch format eyepieces, and a stand to hold it all together.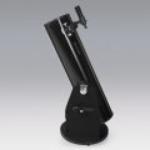 Specifications
Weight 54 Lbs.
Aperture 8 In.
Finderscope 8×50
Optical Design Reflector
Focal Length 1200mm
Focal Ratio F/5.9
Mount Design Clutch W/ Tension Knob
Included Eyepieces 2In.30mm,1.25In.9mm
Star Diagonal 1.25 In.
User Level Enthusiast
---
Return From Zhumell Z8 Telescope To Zhumell Telescopes Main Page
Telescopes Home Page