Zhumell Zenith 60x600 Telescope
Are you considering a Zhumell Zenith 60x600 telescope for your first scope? This scope is most suitable for youngsters and beginners who are ready to take a journey into the world of astronomy.
When looking for a telescope which will take you into deep space, there are several points of particular importance to take into account such as the price, quality and ease of use.
The Zenith refractor seems to have all these points covered for an all-in-one beginner's telescope solution.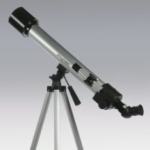 The Zenith is a piece of cake to setup and use. It comes with high-quality optics, a tough aluminum alloy tripod, 5×20 finderscope, 3x Barlow lens, 45 degree prism, two eyepieces and a water resistant carrying case.
Kids and Beginners will love it..
Because it is easy to setup kids and beginners are not going to lose interest half way through the process. You can get on with observing the sky or land based objects in no time at all..
Here are the Specs...
Weight 1.55 lbs.
Aperture 60 mm
Finderscope 5×20
Optical Design Refractor
Focal Length 600 mm
Focal Ratio f/10
Mount Design Alt-Az
Included Eyepieces 9 mm, 17.5 mm
Star Diagonal 1.25 in.
User Level Kids, Beginner
---
Return From Zhumell Zenith 60x600 telescope To Zhumell Telescopes
Telescopes Home Page