Intes Micro Alter M615
The Intes Micro Alter M615 telescope is a 6" F/15 Maksutov-Cassegrain optical system with moving primary mirror focusing. The Alter M 615 has the longer focal length and focal ratio (F/15) than Alter M603 which makes it both a small portable lunar and planetary instrument.
Due to a smaller central obstruction it provides low level contrast in the images which makes it better for visual observation.
The greatest advantage of this planetary telescope is in it's compact design. In spite of it's long focal length the Intes Micro Alter M615 continues to be extremely portable and has excellent stability.
The Intes Micro Alter M615 has an integrated cooling fan that drastically reduces the cool-down time. As a result the telescope is ready to be used very much quicker, a superb advantage if you intend to do quick fire observations of the moon or a planet.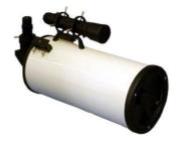 Specifications
Clear Aperture - 152 mm
Focal length - 2280 + 100 mm
Focal ratio - F/15
Back Focus - 15 - 290 mm
Photographic field of View - 10 03'
Tube diameter - 198 mm
Tube length - 485 mm
Tube weight - 4.8 kg
Max. useful magnification - 2x per mm aperture
Reflectitivity of mirrors - 95%
Central obstruction - 33%
Optical quality (for wave length 0.63 µm) - Minimum 1/6th wavefront error
RMS - 0.041
Body parts material - aluminium
Primary and secondary mirrors material - K7, LK5 (Pyrex) with reflective aluminium coating and SiO2 protected
---
Return From Intes Micro Alter M615 To Intes Micro Telescopes Main Page
Telescopes Home Page