Apogee Alta U Series
The Apogee Alta U Camera Series focuses on quality and reliability so you can focus on innovation and discovery. There are so many improvements in such a small package.
There are no external controllers, no plug-in cards, no frame grabbers, and with icron's USB extenders using Cat5 cable or fiber, the cameras can be up to 10 km from the host computer.
Very high resolution CCDs include the Alta U16M (4096 x 4096 with 9 micron pixels) and Alta U9000 (3072 x 3072 with 12 micron pixels.
Both sensors have microlensing for improved quantum efficiency (QE) and anti-blooming gates to prevent smearing.
The Alta U16 is also 4096 x 4096 with 9 micron pixels, but without microlensing or anti-blooming.
All are ideal for applications requiring large field of view, such as sky surveys and radiology. The Alta U8300 (3326 x 2504 with 5.4 micron pixels) provides very high resolution for short focal lengths, an excellent entry point for true scientific imaging.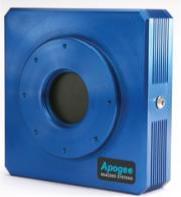 Specification
USB 2.0 interface
Resolution from 512 x 512 to more than 39 megapixels
Wide variety of CCD architectures
Single ActiveX driver and open source Linux driver for all models
Free / open source driver for MicroManager / Image J software
Dual 12/16-bit digitization to 32 Mbtye camera memory
No plug in cards or external controllers
Programmable cooling to 70C below ambient
Precision Time Delayed Integration readout
Programmable fan speed for zero vibration
Runs from single 12V supply
High Performance Cooled CCD Camera Systems
Goto to the Apogee Imaging Systems company website for a complete list of Alta ccd cameras and specifications
---
Return From Apogee Alta U Series To Apogee Imaging Systems Main Page
Telescopes Home Page