Bushnell Binoculars
Amongst the range of bushnell binoculars the PowerView® series offers the largest line of affordable binoculars. .
Bushnell is widely recognized for it's range of top quality binoculars. However with so many binoculars on the market it can sometimes prove to be quite challenging to select the best ones for your particular requirements.
If you really want one of the more superior instruments at a really good price you may want to give this make some consideration.
It's not hard to locate a pair of Bushnell binoculars as they are readily available offline and online. Astronomers as well as the casual user will not be disappointed.
Bushnell offers a variety of unique variations of binoculars with a host of styles and features in each class.
Regardless of what your purpose is for these binoculars, you will discover a range of magnifications, sizes and styles, and multi or fully-coated optics for bright, vivid images. The standard-size porro models feature Insta-Focus® for fast and easy focus on moving targets.
The pair shown here are the 10x50, but they are available in many other configurations upto 20x50 magnification.
The 10x50 binoculars are the best ones to go for if you intend to use them without a tripod, as at larger magnifications there will inevitably be some hand shake.
They have multi-coated optics for superior light transmission,non-slip rubber armor absorbs shock while providing a firm grip and new contemporary styling.
Specs for Powerview Porro Prisms 10 x 50 mm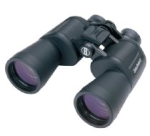 Magnification X Obj Lens10 x 50 10 x 42
Close Focus (ft/m)20/6 8 / 2.4
Lens Coating MultiFully Multi & XTR
Field of View ft@1000yds / m@1000m 341/114 314 / 104.7
Adapt to Tripod Yes Yes
Eyecups Fold Down Twist-up
Eye Relief 10 15.5
Focus System InstaFocus Center
Exit Pupil (mm) 5.0 4.2
Prism Glass BK-7 BaK-4
Water/Fog Proof No Yes
Prism System Porro Roof
Weight (oz/g) 25/709 26.1 / 740
Model 131056 620142ED
Size Class Standard Standard
---
Return From Bushnell Binoculars To Astronomy Binoculars
Telescopes Home Page