Astronomy Binoculars
Which Binoculars Are Best For Astronomy
Many people wrongly believe that astronomy binoculars can't be as good as a telescope because the magnification isn't as great. It is true that binoculars magnify only 10x to 35x at best which is insufficient to show detail on planets. However, the modest magnification and light gathering power is more than enough to uncover a number of the sky's most fascinating objects.
Binoculars are widely used by amateur astronomers all over the world. Astronomy binoculars have a wide field of view making them useful for comet and supernova seeking (giant binoculars) and general observation (portable binoculars).
A number of astronomy binoculars in the 70 mm and larger range remain useful for terrestrial viewing; true astronomical binocular designs (often 90 mm and larger) typically dispense with prisms for correct image terrestrial viewing in order to maximize light transmission.
Such binoculars also have removable eyepieces to vary magnification and are typically not designed to be waterproof or withstand rough field use.
Ceres, Neptune, Pallas, Titan, and the Galilean moons of Jupiter are invisible to the naked eye but can readily be seen with binoculars. Although visible unaided in pollution-free skies, Uranus and Vesta require binoculars for easy detection. 10×50 binoculars are limited to an magnitude of +10 to +11 depending on sky conditions and observer experience.
Asteroids like Interamnia, Davida, Europa and, unless under exceptional conditions Hygiea, are too faint to be seen with commonly sold binoculars. Likewise too faint to be seen with most binoculars are the planetary moons except the Galileans and Titan, and the dwarf planets Pluto and Eris.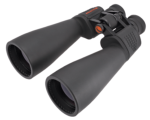 Deep Sky Objects
Among deep sky objects, open clusters can be magnificent, such as the bright double cluster (NGC 869 and NGC 884) in the constellation Perseus, and globular clusters, such as M13 in Hercules, are easy to spot. Among nebulae, M17 in Sagittarius and the North American nebula (NGC 7000) in Cygnus are also readily viewed.
Of particular relevance for low-light and astronomical viewing is the ratio between magnifying power and objective lens diameter. A lower magnification facilitates a larger field of view which is useful in viewing large deep sky objects such as the Milky Way, nebula, and galaxies, though the large (typically 7mm) exit pupil means some of the gathered light is not used by older observers, as past age 50 most eyes' pupils rarely dilate over 5mm wide.
The large exit pupil will also image the night sky background, effectively decreasing contrast, making the detection of faint objects more difficult except perhaps in remote locations with negligible light pollution. Binoculars geared towards astronomical uses provide the most satisfying views with larger aperture objectives(in the 70 mm or 80 mm range).

---
Astronomy binoculars typically have magnifications of 10x and greater with a 50mm aperture. However, many of the objects in the Messier Catalog and other objects of eighth magnitude and brighter are readily viewed in hand-held binoculars in the 35mm to 40 mm range, such as are found in many households for birding, hunting, and viewing sports events.
Larger binocular objectives are preferred for astronomy because the diameter of the objective lens regulates the total amount of light captured, and therefore determines the faintest star that can be observed.
Due to their high magnification and heavy weight, Astronomy Binoculars usually require some sort of mount to stabilize the image. A magnification of ten (10x) is usually considered the most that can be held comfortably steady without a tripod or other mount. Much larger binoculars have been made by amateur telescope makers, essentially using two refracting or reflecting astronomical telescopes, with mixed results.
---
Points to Bear In Mind
Fully multi-coated lenses will improve the brightness of your images quite dramatically. If you look into the objective, you should be able to see a tint to the lenses.
Greater magnification is ordinarily an advantage, however if binoculars are too heavy, the vibration from unsteady hands is going to be amplified as well. This can be avoided simply by using a tripod.
You should bear in mind that a good number of nebulae are extremely large, so in reality a pair of 7x50 binoculars will likely show more than a pair of 10x50's.
An important point often overlooked is that as we age our eyes become less flexible. As a result we could be at a dis-advantage by purchasing a pair of astronomy binoculars with an exit pupil not appropriate for our circumstances.
Someone over 40 years of age will most likely have a 5mm pupil at most, whereas a younger person can have a 7mm pupil. You can easily find out the exit pupil of a pair of binoculars by dividing the objective size by the magnification.
Larger Astronomy Binoculars are more difficult to hold steady, particularly when used for a long period of time. This is where the addition of a tripod is a must. You may want to consider whether it's worth spending the extra on a tripod or choosing a better quality pair of 10x50's or similar.
---
Barska Binoculars
Cosmos provides exceptional overall performance particularly for astronomical viewing and long distance terrestrial observation.
Best Binoculars For Astronomy
It is frequently said that binoculars are the most useful "first telescope"
Bushnell Binoculars
Regardless of what your purpose is for these binoculars, you will discover a range of magnifications, sizes and styles.
Buying Binoculars
Although you may currently have a great telescope, it's handy to have a pair of fine astronomical binoculars that you can take along with you on the road and carry out some stargazing.
Canon Binoculars
A multi-coated, Ultra-low Dispersion (UD) lens element in each objective section delivers outstanding image contrast, sharpness and color clarity.
Celestron Binoculars
These binoculars combine the highest quality precision optics and the most modern, user-oriented design features.
Fujinon Binoculars
Using a unique optical design these binoculars make for an exceedingly flat field of view, which results in tight star images very close to the edge of the field of view.
Leica Binoculars
The Leica 50mm Ultravid HD Binoculars are the most powerful in the Leica range and provide magnifications of 8x, 10x or 12x.
Meade Binoculars
Even though many binocular brands look similiar, there are frequently crucial differences in performance from one company to another.
Minox Binoculars
These are the perfect binoculars for observing, with their large light-gathering power they are certainly in a class of their own.
Nikon Binoculars
All versions offer solid construction, and finely tuned ergonomic engineering for comfortable handling in the course of long hours of use.
Oberwerk Binoculars
This is one of the only water-proof binoculars available that uses a convenient center focus
Olympus Binoculars
As elementary as binoculars are to use, features such as objective lens, angle-of-view, prism design and eye-relief are combined in a variety of ways to provide different observation requirements.
Opticron Observation Binoculars
Superior clarity, light gathering and field of view make this instrument a popular option for astronomy as well as tripod mounted terrestrial observation.
Orion Binoculars
These cost effective astronomical binoculars are an outstanding choice for anyone trying to find bright, high-power views of the night sky.
Pentax Binoculars
These binoculars feature superb optics which are designed with a slightly different perspective to the majority of other binoculars available today.
Redfield BinocularsThe Redfield Renegade model offers leading-edge, fully multi-coated lenses and premium BAK4 prisms with unrivalled brightness, resolution, and edge clarity
Revelation Binoculars
These 15x magnification binoculars with their 70mm lenses are the largest that are recommended for hand held use.
Steiner Binoculars
Ever since the outset, Steiner has been committed to developing new optics technologies, and in the process a great number of imaginative and innovative developments were established which set new standards for future products with all binoculars.
Swarovski Binoculars
These models are characterised by a high-quality optical system with optimised coatings and sturdy design
Tasco Essential 10x50 Binoculars are tough, weather resistant and, most importantly, very affordable
Vixen Binoculars
Large aperture Vixen binoculars are the ideal way to view the night sky.
Zhumell Binoculars
These are top quality astronomical binoculars that are lightweight and far easier to use when compared to many other comparably-sized optics.
Binoculars Review
Add a Binoculars review or discover what fellow astronomers think of their astronomy binoculars
Return From Astronomy Binoculars To Telescopes home page
Part of this text is taken from Wikipedia and is available under the Creative Commons Attribution-ShareAlike License